Life is now surreal: bizarre, freakish, unreal, weird, unearthly.
Surreal is "marked by the intense irrational reality of a dream," according to Merriam-Webster.
The 'dream-like' quality of this pandemic is no less shocking than if I were to walk into my backyard, see an extraterrestrial, and sit down and share a cup of coffee. It's just plain freaky. Yes, I knew that a pandemic was a possibility, but never thought it a probability, or that I'd see it in my lifetime.
I'm not an alarmist or a conspiracy theorist, but now I'm wondering what other earth-shattering facts I'm oblivious to. I've always known that the continued existence of humankind wasn't guaranteed, so for the first time, I look up, "top ways the world could end." I now want to view life with my 'eyes wide open.' I'm floored by what I discover, and here they are in order: global warming, asteroid, pandemic, fungus, engineered disease, nuclear war, robot ascension (think terminators, the most bizarre) overpopulation, and "snowball effect" which is a combination of any of the above (livescience.com). Knowledge is power, but this brings me no measure of comfort. A pandemic is third on the list; it's three levels higher than the threat of nuclear war, which is dumbfounding to me.
Sure, this robot looks innocent enough, but are they? Really?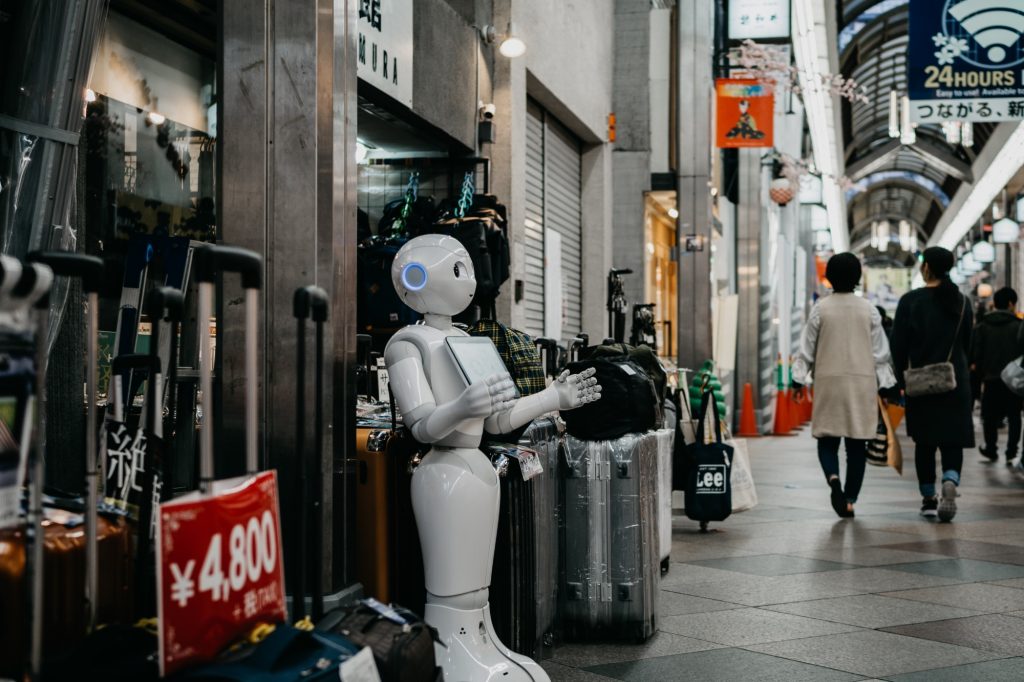 Top 13 surreal mind-blowing moments
1. Seeing the word 'pandemic' on the news.
No, this isn't the movie, "28 Days Later," or, "Carriers," this is the news. I keep staring at the word, in bold red font, in disbelief. One station carried that word before the rest. I thought, "maybe they're just sensationalists looking for ratings." I'd stare at the word skeptically, brows furrowed, head tilted, and eyes squinted. "No, this can't be right," I thought. Days later, multiple stations confirm a pandemic.
2) My hospital is not safe.
I live in Kirkland, Washington, where it all began with the first confirmed cases on January 19 at the Life Care Centers of America which is a nursing home. Evergreen Hospital is in the same complex. Seriously ill people told to leave the hospital as it's not safe. My friend's mother was on I.V. antibiotics and fluids and sent home, anyway. Another friend brought her premie baby into the hospital for a necessary heart checkup; she wasn't allowed to enter because "The hospital is too dangerous for a young baby." Home is safer than the hospital.
3) Social distancing is required.
People must maintain a distance of six feet apart at all times. Humans need each other, especially in times of uncertainty; This is a grueling endeavor. We need touch, hugs, laughter. Single people feel especially alone and lonely. A friend of mine takes an occasional walk with his son, all the while maintaining that distance. Families cannot visit their loved ones in nursing homes, or to celebrate joyous events such as a child's birth, or an engagement. One grandfather walks a mile each day to view his beautiful granddaughter through a window.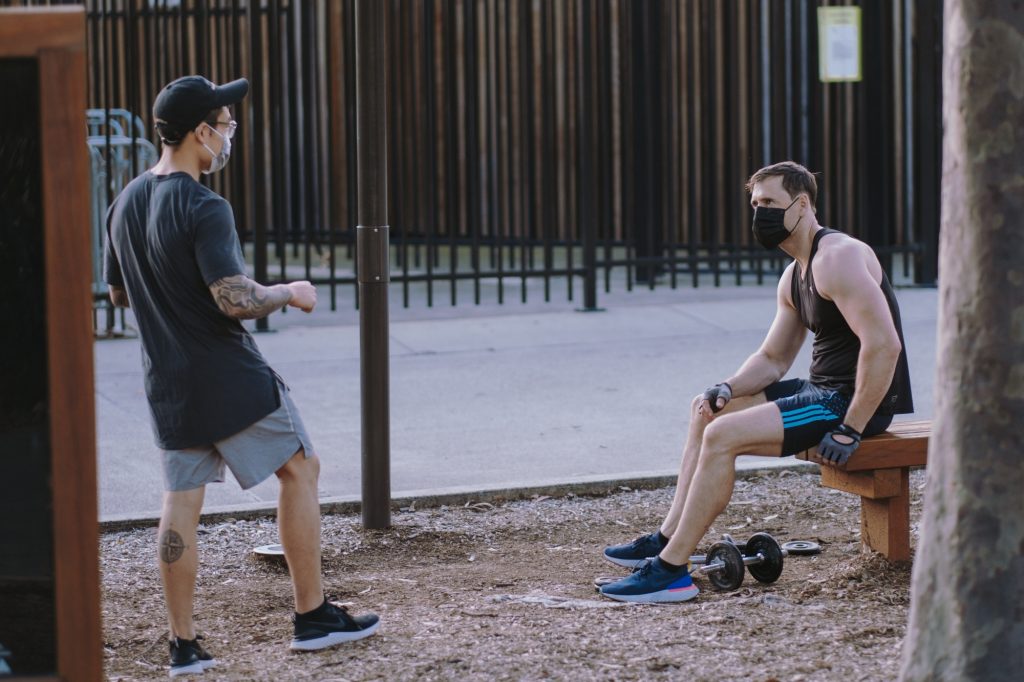 4) All non-essential stores must close.
Restaurants can stay open for delivery only. Essential stores are grocery stores and pharmacies. In the main street of Madison Park, every restaurant has closed for good; 12 in all. I think about the restaurant owners that I know; these are good people who will surely go out of business, too.
5) Stay at home is ordered.
People were still gathering at beaches and various other outdoor places. The governor has threatened to close the beaches and parks if this continues.
6) Global iconic landmarks , airports, and streets are empty.
N.Y's Times Square, Rome, Venice, the Vatican, all of the most beautiful and crowded places around the globe, are empty. Airports are ghost towns. A friend flew to Arizona to be with her mother.  There was practically no one at the airport, and only  five people on her flight. It's eerie.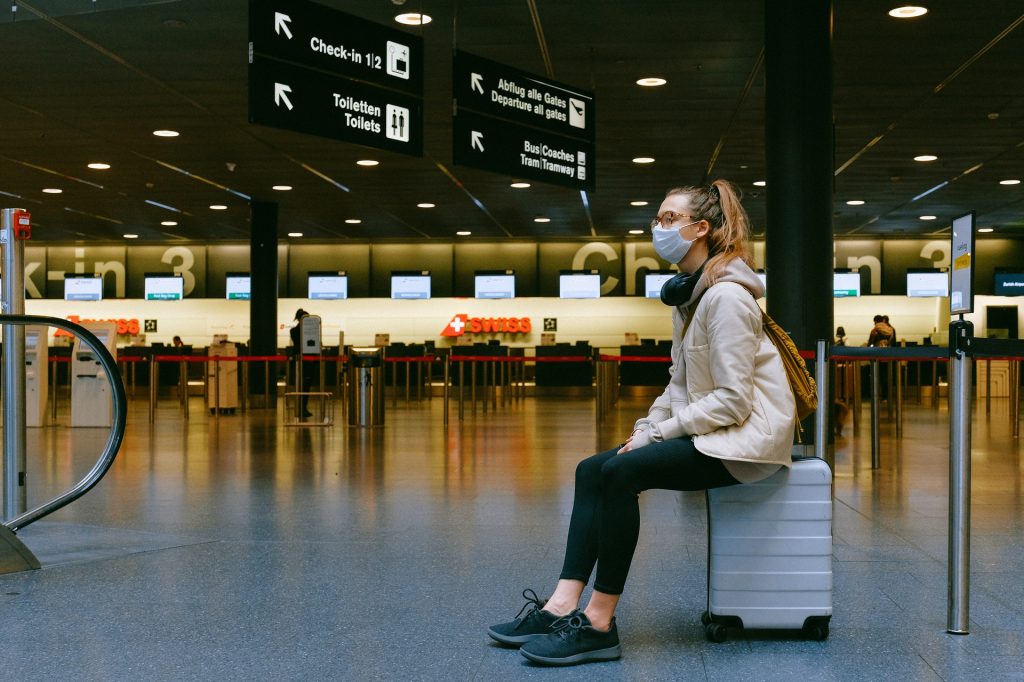 7) Grocery shopping is like being in a sci-fi- movie.
Many shoppers are wearing gloves and a mask. As you move your cart down the aisles, over the loud-speaker blasts, "Please maintain a distance of 6 feet away from other shoppers;" This is an impossible task as the store is full. When two shoppers are going down the same aisle, as they pass, they turn their heads away from each other, move quickly, and avert their eyes.  It's weird.
8) Grocery shelves are empty and essentials nonexistent.
American grocery stores are stuffed to the brim, not anymore. The pasta, soup, and many other aisles are sparse. Our food supply chain is in peril.  Crops are rotting in the fields and meat processing plants are closed. 
Hand sanitizer, rubbing alcohol, Lysol disinfectant, and bleach cannot be acquired. Masks and gloves are in such high demand for 'front-liners:' doctors, nurses, and hospitals that they don't exist for we paltry consumers. Toilet paper is in high demand; you'd think it was gold. Shoppers are hoarding, and the stores had to put a limit on each shopper's purchases.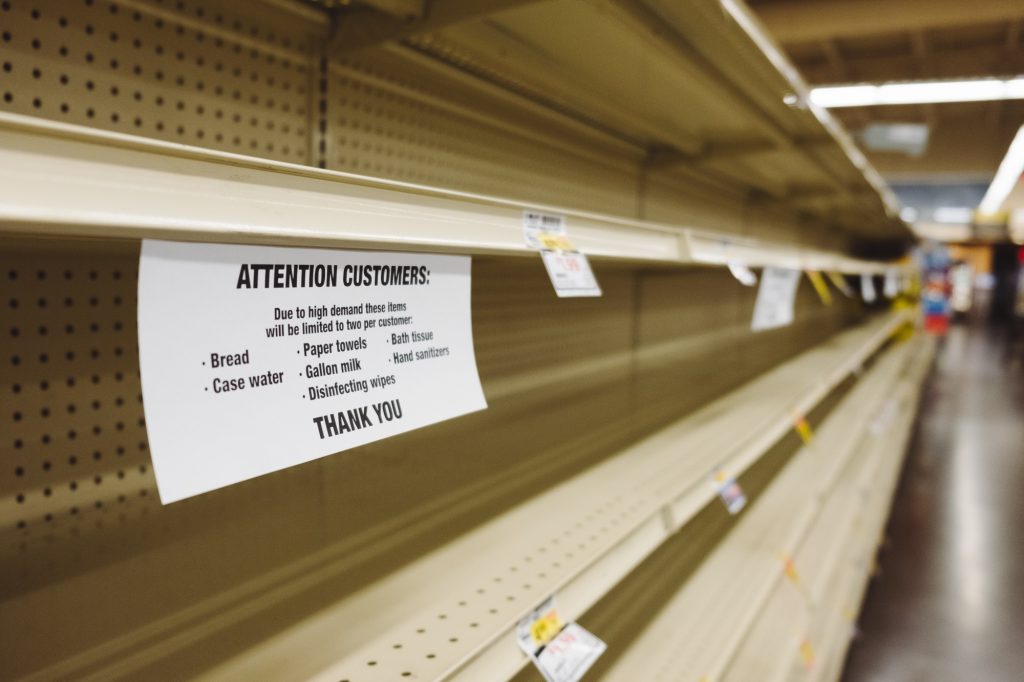 9) The stock market drops 23% since January.
A 23% drop is jaw-dropping, and the forecast for the near term future, grim.  Stores closing means no shoppers; This the natural outcome of restaurant and store closures.
10) Getting tested for COVID-19 is nearly impossible.
Here's how the COVID-19 assessment is currently implemented.
Call your doctor and describe your symptoms.
If the symptoms are severe they'll test you for the flu, pneumonia, and other potential illnesses.
If all tests come back negative, then by deduction you may have COVID-19.
Now, you get the COVID-19 test, right?  Often, the answer is still no. 
I experienced this myself. I called my doctor as I had a fever, cough, and was having trouble breathing. He told me to go to the hospital where they would test me for the flu, pneumonia, and everything else.  I couldn't have the COVID-19 test because none were available; This was mid-April.
This problem is now resolved, as we all heard on the news that there'd be tests for everyone, right? No, the test are still largely unavailable according to NPR.  A Tennessee couple whose husband had been seriously ill, and visited the E.R. five times went through the COVID-19 assessment steps above.  He tested negative for everything else, and was still denied the COVID test, which had to be approved by the state's Department of Health, according to the Guardian.
11) Six states are doing nothing about COVID-19.
Yes, six states are doing little to nothing according to wired.com.  The virus can be spread by someone who shows no symptoms but is a carrier. The states that are doing nothing while the rest of us are staying six feet apart and sheltering at home will affect everyone. When someone travels to another state, they can spread this disease, and the process begins all over again. Distance measures can only be successful if everyone does it.
12) Global trends are mind-blowing.
13) Trump declares he'll order businesses to open May 1.
The world is sheltering in place. Italy has been on a nationwide lockdown for over four weeks. China has been on lockdown for 83 days. It's now allowing one family member to leave the residence for two hours a day. China had plateaued, and then Covid had a resurgence. They had 60,000 cases for a long time and then jumped to 80,000. While the world shelters in place, will America will open for business?
I could name more surreal moments such as the rally they just had in Michigan- a crowd gathering to protest no crowd gathering, or someone trying to steal toilet paper from my friend's second story balcony, but I'd rather hear from you.
What crazy or strange moments have you experienced in this pandemic?